Restore your larger vehicle to its former glory
More time traveling and less time worrying about your vehicle. Our detailing and ceramic coating services help protect any vehicle or machinery against UV and road contaminants, bird droppings, and more.

Perfect for:
• RVs
• Trucks
• Equipment
• Farm Machinery
• And more...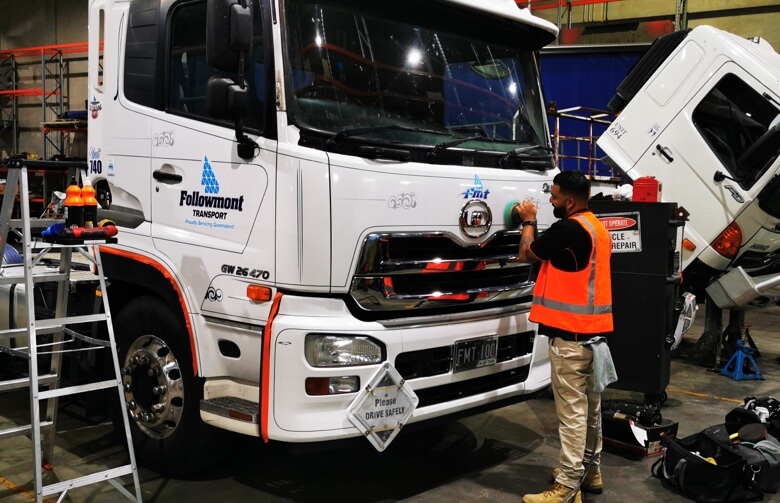 Step 1: Prep
Step 2 Detail
Step 3: Ceramic Coating
We prep the existing surface to the highest possible standard, cleaning contaminants such as tar, bee pollen, water spots, and other environmental pollution - allowing us to fully assess the surface to be cut and polished.
We work on a full range of vehicle sizes including farm machinery and trucks. Machine cut and polish is able to correct: Wash marks and swirl marks, Water spotting, Environmental pollutants, Clearcoat scratching Holograms, Signwriting removal, Overspray & Paint Contamination
If required, we apply a ceramic coating to the finished vehicle to lock in the shine, add protection from salt, UV and other harsh environmental conditions. This keeps it looking better for longer and saves you time and money.
Frequently Asked Questions
How long does it last?
With proper care and attention our reconditioned paint surfaces can last for years to come. In addition, we can provide long-lasting paint and ceramic coatings for those who want to protect the look longer. Protective coatings remove the need for waxing the vehicle surface.
What are the benefits of ceramic coatings?
Repel rain, mud, and dirt. Unlike wax or factory paint, the ceramic coating does a better job of protecting the exterior of the vehicle. The best vehicle coating product has hydrophobic properties and will make water and rain bead instead of a pool on the hood. Mud and acid rain splashed on the vehicle slide off the smooth surface without leaving a stain. The same goes for snow, bird droppings, or ice as they roll off the vehicle without sticking to its surface. Prevent UV damage, rust, and oxidation. For the most part, leaving your vehicle in the sun for too long tends to cause the vehicle's paint to fade and even crack. The ultraviolet rays of the sun have a destructive effect on the vehicle's surface. Many ceramic coating brands prevent this damage as well as other forms of erosion such as rust and oxidation.
A sincere thanks for excellent service
I sincerely thank David & his team for the excellent service provided. Will recommend their service, their mannerisms were outstanding & their professionalism displayed. A special thanks to Cameron for keeping to his word & work done, going for the extra mile. Highly appreciated.
Would highly recommend
Went for a full car detail (inside and outside) my car came out looking almost brand new and so shiny… Would highly recommend and will be returning there in the future with my car's needs. Thanks again guys!!!!